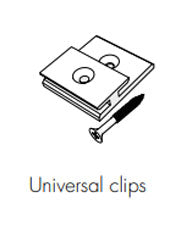 Trespa Pura Universal Fixing Clips. (Box of 100)
Universal clips are essential to fit the Pura cladding system, as they provide the correct placement of the planks. Clips should be placed in the middle of each batten.
Where 2 Pura planks meet, i.e. an intermediate joint, two universal clips should be placed, with the width of the intermediate joint being 8mm.
6 Clips per 3 meter board if fixing to 600mm centres